I've been beavering away on this project for the last week or two. I've taken the open source Auduino synthesizer for the Arduino development platform, and have hacked on a 16-step sequencer. I'm very pleased with the way it's shaping up!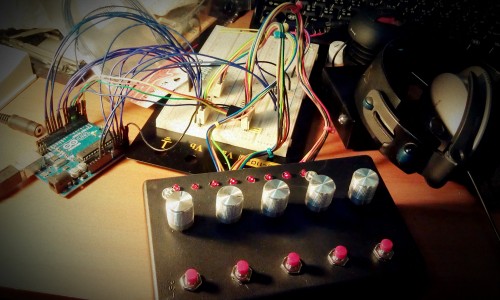 I'll post a video soon, but here are the details for now. I've added 8 LEDs and 5 buttons to the original design. The first 4 pots are tone controls, but when the buttons are pressed they also allow you to dial in the pitch for each of the 16 steps. The fifth pot and button have control functions. You can choose the sequence lenghth from 1 to 16 steps, control the tempo, swing and note length. I'm adding features as I think of them, but already it's a sweet instrument to play. I like the fact that there's no display and that you're forced to rely on your ears.
I have some ATMEGA 328 chips on order from Hong Kong and the next step will be to replace the Arduino with a Hackduino and to move it along with the rest of the components off the breadboard and into the enclosure. I definitely want to add midi-out before I'm done, but when I'm far enough along I'll post the Arduino source code and a schematic.
1 Comment »
[…] Groovesizer project is coming along very nicely. I managed to implement a bunch of additional features […]
RSS feed for comments on this post. TrackBack URL
Leave a comment